Body
Are you interested in joining Soul-Full Bridges Collective? 
If you are interested in joining a Soul-Full Bridges small group, please fill out a membership form here. 
If you want to learn more about this initiative before joining, you can read our monthly updates posted below, and you can also visit our Soul Care Facebook group here. It is a private group, but your request to join will be answered promptly.
November 2021 Large Group Meeting
This month, our Soul care group gathered together on November 16th to share what was on our hearts and to learn from a member volunteer about their soul care practice. We also welcomed 2 brand new members into our Large group meeting! This initiative is growing in numbers, as well as energy, and we are grateful for the additional community builders who have joined this collective of encouragers. 
Wendy also read a reflection reading on this month's "Essence" question that was part of the small group meetings this month. These questions help us to understand each other's essence, getting to the core of who we are. By fully "seeing" each other, we can better support one another's soul care. This month's question was: "If you could do anything and knew you would not fail, what would you do?" Members have been encouraged to write their responses into a thread on our Facebook group, where you can read everyone's answers!
This Month's Co-Created Outcomes
1. We are creating a roster of all member's contact information, only accessible to other group members and only with consent, in the hopes that connections between members will occur outside of the soul care large and small group meetings. This information is being collected via the membership form, so if you are a current member of Soul-Full Bridges Collective but have not yet filled it out, please do! If you are interested in joining the collective as a new member, you can also fill out the form, and we will be in touch with you soon.
This Month's Soul Care Practice
This month's practice was called "Soul Collage," and was introduced to the group by Cheryl Groce-Wright as her way of exploring her soul and hearing what her inner voice wants her to know about her life in that moment. She practices this by collecting an assortment of images, usually from magazines, and choosing the ones that resonate with her. She then creates a collage of the images onto a card and, once finished, asks the card a set of questions. After each question, she sits with the images, allows the message to emerge, and allows herself to receive it. 
Cheryl has created about 50 cards now that act as a deck she can go through and pull from, allowing a past card to speak to her in the present time. This allows new messages to emerge from past collages, creating a beautiful collection of inner wisdom that transcends time. She also did a reading for the group with one of her past cards in our large group gathering, where she asked: "What wisdom do we have to share with our Soul-Full Bridges Partners?" and the cards replied: "There is a sweet, sweet energy in this group. It's diverse. It's far reaching and worldwide global. But its also really organic. And the sharing that happens will always be transformational."
She has also been generous enough to host a "Soul Collage" workshop, where members of Soul-Full Bridges Collective can come together and create their cards in real time with one another. This will be happening on December 7th, 2021 at 4pm EST. 
If you'd like to give "Soul Collage" a try at home, here are the questions that Cheryl uses in her practice:
1. Who are you (the card can respond, "I am one who....")
2. What gift do you have for me?
3. What do you want/need me to know?
4. What do you want/need from me?
5. How will I remember your wisdom?
6. Is there anything else you'd like to tell me?
October 2021 Large Group Meeting
This month, our Soul Care groups came together again on October 19th to continue co-creating the full vision of what this initiative will be and to share another soul care practice with each other! 
THIS MONTH'S CO-CREATED OUTCOMES
1. The chosen name of the combined groups is the "Soul-Full Bridges Collective." This name encapsulates the group's co-created mission of filling each other's soul up with encouragement and support. Our motto has been "If it feels like work, we are doing something wrong!" This chosen name also highlights the groups' invitation for connection in a safe space, just like a covered bridge. Participants are invited to co-create an in-between space to pause and just be, a space to walk with each other through the vulnerable journeys of joy and hardship, and a space to be known and held in community, which requires us to cross the distance between our individual differences. 
2. For the monthly small groups, the virtual group will meet the first Tuesday of the month, and the Richmond group will meet the second Tuesday of the month. The small group structure will be broken down into two parts. First, participants will be offered questions for discussion and connection that will create opportunities to get to know each other's essence. Secondly, intentional space will be made for participants to share and discuss what is on their heart with one another.
3. The monthly combined group will bring together both the virtual and the Richmond group together on the third Tuesday of the month, and a participant volunteer will share their soul care practice and there will be an opportunity to practice and discuss the shared practice. There is also intentional space made for participants to pause and be present, as well as pairing together to share what is on their heart. 
THIS MONTH'S SHARED PRACTICE
This month's shared practice was called "Pay Attention, Be Astonished, Tell About It." This practice encourages us to slow down and notice the beauty that is right in front of us, to open ourselves up to wonder and astonishment, and to share that wonder with others. This practice can be done anywhere but going out into the world of nature can be a great way to get started. Look for beauty and wonder around you, no matter how small or ordinary. Capture it by taking a picture or video, writing a poem, drawing a picture, etc. Then, share it with someone! Participants have been invited to share their "moments of astonishment through the newly created Soul Care Facebook Group and WhatsApp chat. 
HOW PARTICIPANTS ARE CONNECTING ALL MONTH LONG
Participants have been invited to share what is astonishing them and what is challenging them through the Soul Care Facebook group. This space is also open to anyone who is interested in learning more about the Soul-Full Bridges Collective and potentially joining a group. You can visit the Soul Care Facebook Page here.  
The Whatsapp chat offers the same opportunity for participants to share with each other as the Facebook Group, but in a more private setting. This chat is only open to those who are active participants in the group meetings. Participants can reach out to their group facilitator to be added to the chat. 
September 2021 Launch of the Soul Care Groups
We launched the Pilot Soul Care group launched on September 21st, 2021, where participants met together for the first time to share soul care practices and begin to co-create what this space of support would look like. Due to the growing interest and energy behind this initiative, the goal of 12 participants was exceeded and new elements were added that will allow the groups to grow larger and smaller at the same time. 
Those who attended the first meeting affirmed the emerging vision of creating a safe space for community builders everywhere to find the encouragement they need to encourage others.  We sought to do this by providing space for honest, heartfelt sharing that allows us to release the hard stuff, celebrate the good stuff and find inner peace so that we can be peacemakers in our respective communities. The strategy for providing these spaces is to co-create them. 
GROWING SMALLER AS WE GROW LARGER
As this group grows larger, we recognize that, in order to achieve the deep level of sharing envisioned, we must also grow smaller. In addition to a globally accessible monthly gathering described above, there will be opportunities to meet once a month in smaller groups between the large group meetings where an intimate setting will allow participants to check-in with one another, talk about how their respective soul care practices are going, and share insights and support with one another at a level that is difficult in a larger group setting. 
Richmond Group: The first small group we are launching is composed of community builders across various sectors (Non-profits, Educators, Governmental & Faith Leaders)  based in Richmond, Virginia.. 
Virtual Group: The second small group we are launching is composed of Asset-Based Community Development Practitioners from across the globe. This group will remain virtual so that it can be accessible to its geographically diverse participants. 
HOW SAFE SPACE IS BEING CREATED
As we shared in our previous post, the listening project revealed that the top priority for community builders was to have a safe space to come together. Our first task as a group was to discover what would make the space safe for everyone. 
While everyone in our Soul Care Initiative is a community builder engaged in strengthening communities in some way, we all come from different backgrounds.  Where there is difference, we must be intentional in ensuring we honor that diversity and strive for inclusion of all voices and perspectives. Inclusion is imperative to making these safe spaces work so that each participant feels fully seen and heard as their authentic selves. 
The group worked together to create a social contract of basic guidelines that everyone could commit to abiding by. This contract is a living document that will evolve and grow as the group does. The social contract allows participants to build bridges of support across differences in a way that is accessible, inclusive, and celebratory of the complexity and vastness of human beings. 
Practicing inclusion is hard! It requires assuming positive intent, a willingness to admit when your intention did not match your impact, and a commitment to "getting it right" instead of "being right", as Sociologist and Author Brene Brown says. But as safe spaces are created, bridges can be built that lead to joyous, thriving communities of support and encouragement.
THIS MONTH'S SHARED PRACTICE
This month's shared practice was the first practice shared in our soul care groups! It is called "Gathering the Day," and it is a practice of self-examination and reflection on how we are spending our time. The proposed way to do this is to sit down at the end of the day, list ten things done that day, and reflect on how our actions and prioritization of time aligns with our personal values. It also encourages us to take responsibility when we realize our time could be better spent and invites us to reflect on what positive changes we could make to better align our days with our highest well-being and our highest selves. 
AN UNEXPECTED EMERGING OUTCOME
While our initial listening project was focused specifically on community builders, it has become clear through our conversations this past month that every human being needs soul care -  a way to renew the energy and life-force within us that allows us to be fully alive and wholly ourselves. This is particularly true during this very stressful season!
At the time Wendy and Cheryl launched this project, they envisioned it as a way of supporting community builders but several community builders from within this project as well as those in our Network have expressed an interest in launching this type of project in their local communities as a tool for strengthening communities from the inside out. 
As with all ABCD efforts, you never know where it is going and unintended outcomes like this are what makes the process so exciting and rewarding!
August 2021 Convening Meeting 
On August 25th, 2021, participants in the Soul Care Project met to reflect on all that was learned from the listening project.
During this event, the strongest image to emerge was that of circles of encouragers offering encouragement to one another on a regular, on-going basis. The co-created vision of what "encouragement" looks like for participants emerged as: Providing honest, heartfelt sharing that allows us to release the hard stuff, celebrate the good stuff and find inner peace so that we can be peacemakers in our respective communities. 
The general consensus of those in attendance was that creating safe space to come together is how we will share and experience soul care and how we will provide mentorship of emerging leaders. Each participant has committed to gathering together once a month to encourage each other and to take turns sharing a soul care practice that has helped them to thrive and build resilience in challenging times. Together, participants will reflect with one another on how that month's shared practice can be incorporated into daily life for continued benefit and renewal. To create safe space, we need smallish (8-12) person groups of committed people. Soul care is out "why" we come together. As on attendee shared, "Encouragers need encouragement." Caring for ourselves is the most important activity we can do for our communities who depend on us. Everything else grows out of this deeper inner work. 
Image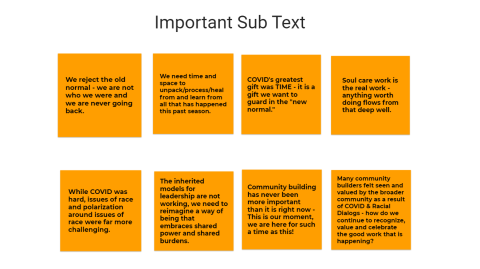 Next Steps
A core group emerged from the meeting who agreed to work together to bring the vision of creating safe space through which to bring "encouraging encouragers" to life. This group will form a pilot group of 12 community builders who will support one another to live into this vision together over the next six months. Each pilot group member will share her/his soul care practice with the group on a rotating basis, and the pilot group will work together to develop a strategy for expanding this work to other community builders across the Richmond region and beyond. 
How It All Began - Summer 2021
The top shared concern that began emerging in 2020 for our coaching clients was compassion fatigue among those working with vulnerable populations due to the impact of both COVID 19, the racial disparities highlighted by the pandemic, and the racial unrest that results from continued police violence in communities of color.   
While providing access to training and coaching services for community practitioners remains our top priority, an additional objective for the Empowered Communities Network in 2021 was "soul/self-care" for community builders in our network and beyond who feel as if they have been through a period of immense change, challenge, and/or trauma.  Community engagement professionals cannot be expected to empower communities until they themselves feel strong and supported. They also cannot be effective in healing their communities if they themselves have not been given the tools, time, and support they need to find inner healing from what has been a challenging season.
Phases of the Soul Care Project
I. Listening
 
We began this phase by conducting a listening conversations with 30 seasoned community engagement professionals from a multitude of sectors. Our listening project focused on 3 key asset-mapping questions:
1. What has helped you survive or thrive during the difficulties of this past season both personally and professionally?  In response to question one, respondents answered: 
Image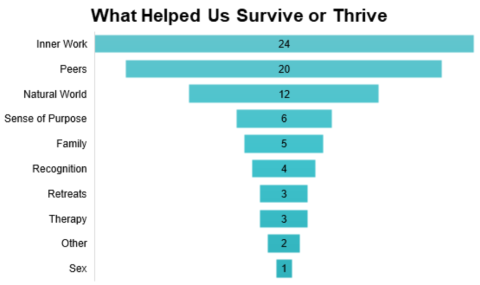 ​2. If you could do anything to help your peers working in communities thrive as we embrace a "new normal," what would you do?  In response to question two, these four focus areas emerged:  
Image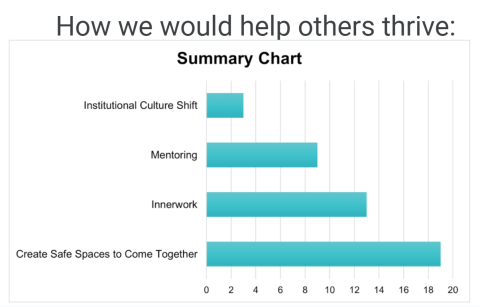 Below is a summary of the comments, ideas and concepts that emerged from the interviews related to the top two responses.
Create safe space to come together - What: sharing stories, listening, reflecting, connecting, processing, encouraging, supporting, co-creating, learning, valuing, grieving, thought partners, idea exchange, truth-telling. How: Create safe space, facilitate conversations, small groups, dinners. 
Inner work - What: Choose self, joy, tap into calling/passion/values, grieve well, connect to nature, let go of roles, dance, music, movement, unplugging. How: Intentionally taking the time, Spiritual Practices, Retreats.
3. If others share your interest in helping their peers thrive, would you be willing to put your ideas into action?  In response to the third question, participants gave a resounding YES! 
To learn more about the outcomes of the listening project, read out blog post here. To stay up to date with on our Soul Care for Community Builders Initiative, you can read about our journey through our Facebook page where we will continue to share highlights from this project. 
​