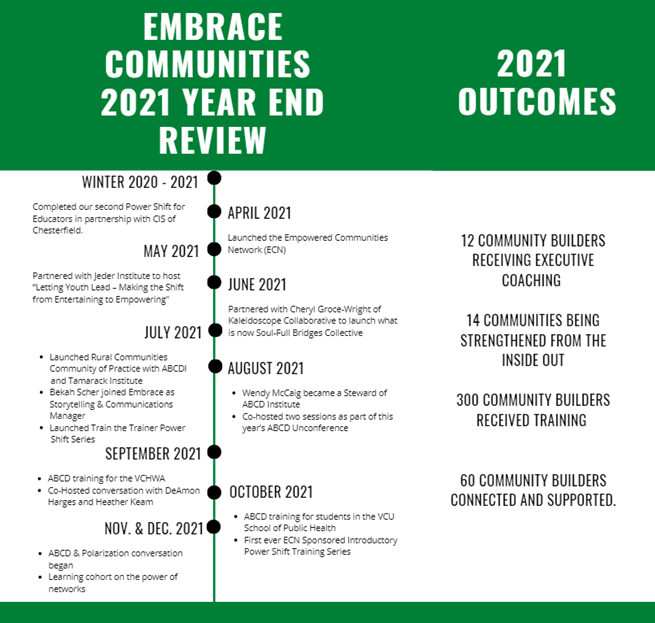 2021 Outcomes
This past year has been filled with new opportunities that have helped us forge new relationships and deepen existing ones. In total during 2021, roughly 300 individuals participated in training opportunities, 60 individuals got connected to peers through networks and communities of practice, and 12 individuals received executive coaching as they put what they learned into practice in 14 different communities. All of this was made possible through our collaborations this year, of which you can find a listed below. 
Winter 2020 - 2021
Embrace completed our second Power Shift for Educators in partnership with CIS of Chesterfield.  During this six-month learning cohort, we accompanied educators as they faced the challenges of COVID and the impact it was having on their schools and students. Throughout 2021, we have continued to work with educators to find ways an ABCD approach can help address the challenges of this very difficult season.  
April 2021
Embrace launched the Empowered Communities Network to help ensure our training and coaching services are accessible to all community builders regardless of their budget. We are thankful for our ten founding institutional members.  You can learn more about them and their ABCD efforts here.
May 2021
Wendy McCaig partnered with Jeder Institute to host "Letting Youth Lead – Making the Shift from Entertaining to Empowering." This training shared our experiences of empowering youth to see themselves as vital contributors and leaders in their communities and how their involvement helped the community to recognize the youth as an asset - they are the heroes we have been waiting for! You can find a link to this training here.
June 2021
Embrace teamed up with our good friend Cheryl Groce-Wright of Kaleidoscope Collaborative to launch what has become Soul-Full Bridges Collective This collective is for community builders who are seeking to strengthen the heart and soul of our fellow community engagement professionals from all sectors, which will allow us to collectively rise to the challenge of strengthening the communities in which we serve. This pilot project has roughly 20 active members from across the globe and continues to grow. 
July 2021
Embrace helped launch the Rural Communities Community of Practice in partnership with the Asset-Based Community Development Institute and the Tamarack Institute.  The network has a core group of roughly a dozen engaged ABCD rural practitioners and over thirty participants in its first six months. 
We welcomed Rebekah Scher to our network. In addition to using ABCD in her consulting practice, Bekah is serving as our Storytelling and Communications manager. She has been one of our favorite 2021 collaborators, and we trust you will get to know her much better in 2022 as we invite her to contribute her generative conflict skills towards making the commUNITY stories we see in our daily work more visible in a world plagued by stories of division. 
Embrace launched the first ever Train the Trainer Power Shift Series. Completion of a Train the Trainer level series is the first step for those seeking to become certified trainers in the Empowered Communities Framework. To learn more about the graduates of this learning cohort, visit our blog post here. 
August 2021
Wendy McCaig was honored to become a Steward of the Asset-Based Community Development Institute which consists of ABCD practitioners from across the globe. This opportunity will allow Embrace to work even more collaboratively with other ABCD practitioners in coming years. 
Wendy co-hosted two sessions as part of this year's ABCD Unconference that brings ABCD practitioners together from around the globe to learn from one another's work in their unique communities and contexts.
The first webinar was co-hosted with

Deb Wisniewski

of the

ABCD Institute

and Heather Keam of the

Tamarack Institute

and was entitled, "Rural Communities: We Are It!" Together, they did a "year in review" session that shared the past year's actions and learnings, as well as what the future of the group will look like. You can access this session 

here.

 

 
 

The second session was co-hosted with

Cheryl-Groce Wright of Kaleidoscope Collaborative RVA

where their summer 2021

Soul Care for Community Builders

listening project outcomes were shared, as well as an invitation extended for global ABCD community builders to help co-create what is now the

Soul-Full Bridges Collective.

You can access this session

here. 
September 2021
Embrace conducted a four-part ABCD training for the Virginia Community Health Workers Association.  
Wendy co-hosted a conversation with DeAmon Harges, also known as the Roving Listener, and Heather Keam of the Tamarack Institute. Their conversation covered how we can reconnect our communities through listening and allowing ourselves to be astonished by what we learn. You can access this conversation here.
October 2021
Wendy conducted an ABCD training for students in the VCU School of Public Health who are committed to serving underserved communities. 
We launched our first ever Network Sponsored Introductory Power Shift Training Series that was hosted by Belmont Community Resource Services and Coastal Bend Neighborhood Empowerment. The graduates went through four facilitated sessions that covered Part I of the Power Shift core curriculum and then launched listening projects in their respective communities. 
November 2021
A small group of global ABCD practitioners began exploring how ABCD can be a tool for commUNITY cultivation in an increasingly polarized society. This work group is in its early stages of development, but what is emerging is a collaborative storytelling effort that links all our amazing ABCD friends together to tell a more resonate truth of commUNITY unity in the face of the commonly held lie that we are hopelessly divided. Our commitment to telling commUNITY stories has long been one of our goals and we promise that in 2022, this will be a key emphasis. In fact, we are launching a new story series for 2022, which you can find here, along with a reminder of a few commUNITY stories from the past.   
December 2021
We joined a few friends from the Network for Social Transformation in a learning cohort to think more deeply about Network weaving and how to fuel social change by tapping into the power of networks. 
In summary, we have made a lot of new friends and have had an opportunity to learn about community building efforts in our own backyard and across the world. Many of these collaborative partnerships are new, the networks are young and more connecting opportunities are in the works for the new year!  We are so thankful for all these opportunities and look forward to making new friends and collaborating at an even deeper level in the new year.   
To learn more about these or other engagement opportunities, you can contact us here, or you can stay tuned by liking our Facebook page to learn more and connect with us in the coming year.
If you would like to support Embrace, you can donate online here.