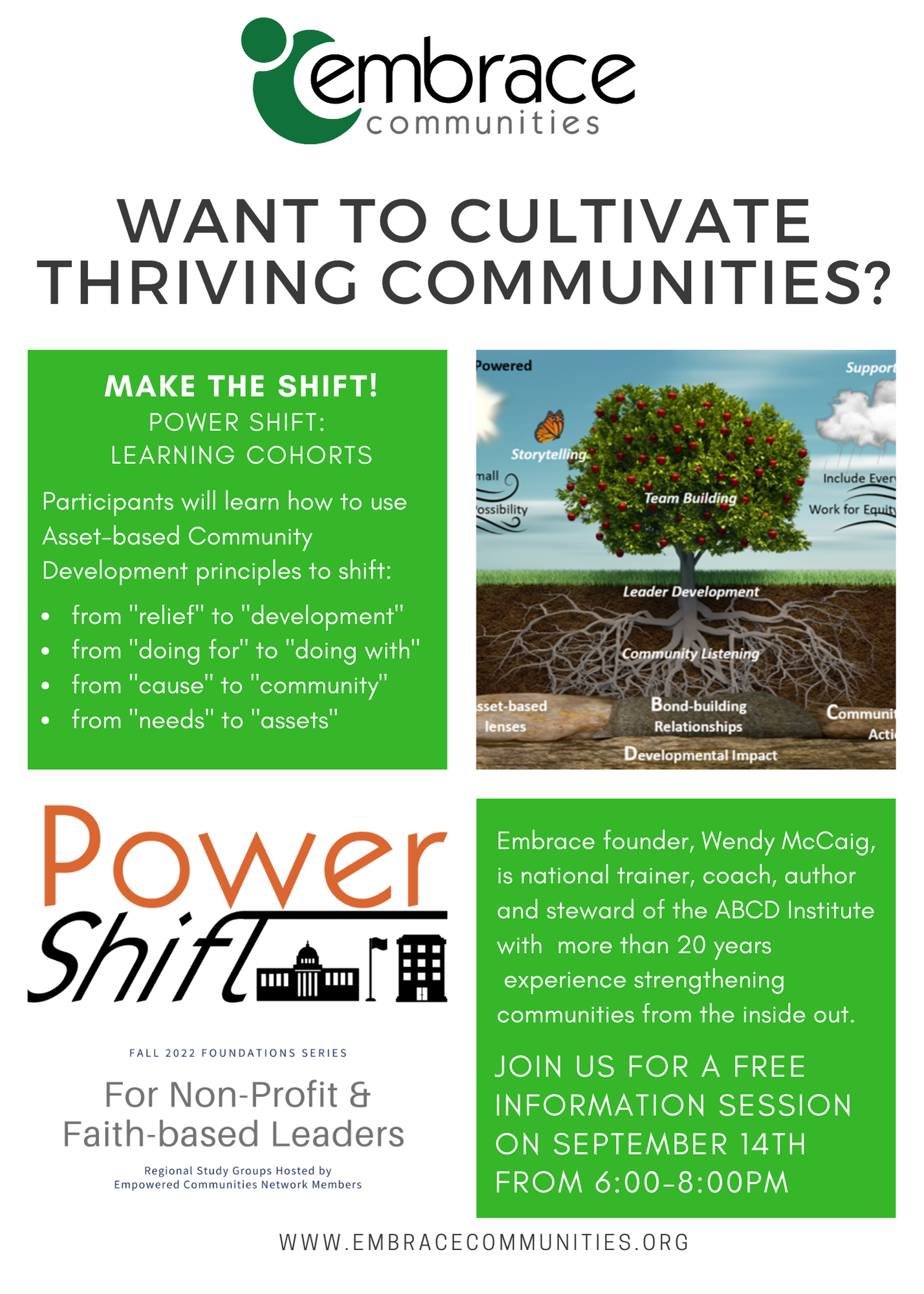 The Empowered Communities Network is hosting this Power Shift - Foundations Series Training event through multiple learning cohorts.  Some cohorts will be hybrid and others will be entirely virtual.  
All cohorts will begin with a Virtual Launch Party on September 14th from 6:00-8:00pm EDT. Each learning cohort will then meet 2-6 times between the launch party and the closing celebration which is scheduled for November 9th from 6:00-8:00pm EST. The virtual sessions will be recorded and available to those enrolled in the training.  Times and locations for individual learning cohorts will vary by group. 
If you are interested in joining a cohort but missed the Launch Party, you can view the video here: 
Session Recording: Passcode: 38z.fHZ$
To learn more about the regional learning cohort near you or to register for the free information session, please contact the Regional Network Member who will be hosting the event in your area:
Farmville, Virginia: Wendy McCaig, Executive Director, Embrace Communities
Corpus Christi, Texas: Bruce Wilson, Executive Director, Coastal Bend Neighborhood Empowerment 
Chester, Virginia: Chad Beck, Missions Pastor, Chester United Methodist Church
Richmond, Virginia: Matt Bates, Sr. Pastor, Centenary United Methodist Church
Richmond, Virginia: Katie Gooch, The Pace Center at VCU
Chicago, Illinois: Kelley Johnson, Holy Family Lutheran Church 
Virtual: Wendy McCaig, Embrace Communities 
Request contact information for your local host here.
Learn more about these and other Empowered Communities Network Members here.
Learn more about the Empowered Communities Network here. 
If you are interested in joining a cohort but missed the Launch Party, you can view the video here: 
Session Recording: Passcode: 38z.fHZ$